The Tax Freedom Movement - Establishment Controlled?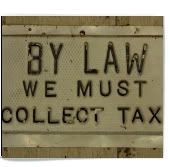 I think Aaron Russo's film
America: Freedom to Fascism
is an excellent exposé on the Federal Reserve, the Income Tax system, and the near-future plans of the NWO.
However...
The income tax is legal
. It is not constitutional, but it is perfectly legal. How is this possible?? Simple--it's
contract law
, as is evidenced by George Mercier's "
Invisible Contracts
".
A contract does not have to be constitutional to be legal. For instance, a non-disclosure agreement violates your first amendment rights to free speech. But regardless, if you break this contract, you are liable to pay damages to the other party involved. The income tax is enforced by a myriad of
"invisible" contracts
that 99% of all Americans have signed, mostly without their knowledge. When you opened your bank account, did you read
all
of the fine print and then read all of the fine print on all of the documents referenced in the original fine print? I doubt it. Same thing goes with your driver's license. Your mortgage, etc., etc. These contracts all include language that requires you to pay the Federal Income Tax. It matters not if the tax itself is legal or not, and the lower courts have--on a regular basis--ignored the Supreme Court's decision that the 16th Amendment gave no new powers of taxation to the Federal Government.
So... if a regular dude like me can find and understand this information, how is it that it evaded every single one of the "tax law experts" that Russo interviewed? I actually have had some correspondence with G Edward Griffin on the matter. I told him that based on what I'd read on his web site, I assumed that he was not aware of the information presented in "
Invisible Contracts
" and I gave him this link to read it. He responded and asked what that I had read led me to believe that he wasn't aware of this. I told him it was the simple omission of said information from his site. He wrote back saying "You had me worried there for a minute." I wrote him back and asked him specifically if he was aware of this information and if he presented it to Aaron Russo when he was interviewed for Freedom to Fascism. And if he did, did Russo edit this part out? I have received no reply from Griffin so far on this matter...
So there are two possibilities here to consider:
1) Aaron Russo was not aware of this information regarding the contracts that make the income tax legal.
2) Aaron Russo was aware of this information, but chose not to use it in his movie for whatever reason.
And here are 2 things that lead me to believe that option number 2 might be closer to the truth:
1) This information is easily available by doing a simple Google search. How is it that his researchers did not find this information?
2) In a talk that I saw Russo give to an audience, he mentions his relationship to Nick Rockefeller. He said that during his campaign for Governor of Nevada, Rockefeller tried to befriend him and bring him over to "the other side," offering him a position on the Council on Foreign Relations and other such things. Russo said he refused. How likely is it that someone could be that close to the Rockefeller family, and simply "refuse" their demands to stop pursuing information that criminalizes them? My guess would be that all those who refuse such demands do not live another day, and all those who accept such demands are not told to "come to the other side," but are told what they will and will not disclose in regards to the Federal Reserve and the Income Tax.
So it would seem to me, on the basis of the omission of the information presented in George Mercier's
"Invisible Contracts"
, that said information is either false or it has been purposefully left out of the "Tax Freedom Movement" altogether, which would suggest that the "Tax Freedom Movement" itself is an establishment front. They do, afterall, control both sides of the argument...
My next step will be to research "Invisible Contracts" further, to try to get some lawyers that I know to take a look at it, and to obtain copies of the actual contracts that it claims enforce the payment of the Income Tax and verify that they do indeed say what Mercier claims they say. If I can validate the information in "Invisible Contracts," we can assume that the "Tax Freedom Movement" either hasn't found this information (a suggestion which I find to be highly unlikely), or the "Tax Freedom Movement" is itself controlled by the establishment.
If this is the case, why? My premature answer to that is that they are not giving us all of the information but they make the presentation so compelling that they are able to get more and more people riled up about the wrong thing. They get more and more people angry--this time at the right entities but presenting invalid arguments. They keep us fighting in exactly they way they want us to. They keep us thinking we are involved in real opposition to their agenda, but we're only opposing them in exactly the way that they want us to--yet again. They know that people like us are going to oppose them. So they create a story that we can believe but then make sure that our aggression is pointed in ever so slightly the wrong direction...